Revive IT is your hub for affordable refurbished gear like laptops, desktops & monitors. If you have any questions about your computer, check below!
Frequently asked questions
How do I become tax exempt with your company?
---
To be tax exempt you need to be a licensed reseller and will need to provide us with your AZ5000 form filled out along with your resellers license.
---
Can you upgrade my systems to windows 10?
---
Yes and we will provide you with a microsoft authorized product key
---
Do you do any desktop or laptop repairs?
---
Yes we do. The repair diagnosis is $45 - from there we can figure out whats going on with your unit and provide you the cost of repair. Check our repair services here!
---
Do you have any gaming systems?
---
Yes we do - we can custom build a desktop or laptop system
---
Is my system worth upgrading or should I just purchase another?
---
We can absolutely provide you with this advice based on what the issues are with your computer, the resale value of your unit and its age. Give us a call and we'll be your guide!
---
Do you carry Microsoft Office?
---
We do not - but there are lots of free alternatives available. Give us a call and we'll help you out!
---
Can you wipe my computer clean and reinstall the operating system?
---
Yes we do - the cost of this service is $129.99
---
Do you have a virus removal service?
---
Yes we do - the cost of this service is $95
---
How do you acquire your inventory?
---
Our inventory comes from businesses and Fortune 500 corporations all around the country.
---
How do I activate Windows 10?
---
Activation helps verify that your copy of Windows is genuine and hasn't been used on more devices than the Microsoft Software License Terms allow. Depending on how you got your copy of Windows 10, you'll need either a 25-character product key or a digital license to activate it. Without one of these, you won't be able to activate your device. The product key or digital license can't be substituted for one another. To find out which one your device uses, see What activation method do I use, a digital license or a product key? in the list below. A digital license (called a digital entitlement in Windows 10, Version 1511) is a method of activation in Windows 10 that doesn't require you to enter a product key. If you upgraded to Windows 10 for free from an activated copy of Windows 7 or Windows 8.1, you should have a digital license instead of a product key. A Windows product key is a 25-character code used to activate Windows. It looks like this: PRODUCT KEY: XXXXX-XXXXX-XXXXX-XXXXX-XXXXX During installation, you'll be prompted to enter a product key. If you have a digital license, select the option to continue without entering a product key. For help finding your product key, see Find your Windows product key.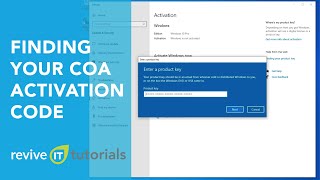 ---
Where is the product key located?
---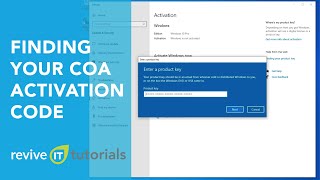 Check out this video on where you may find your product key!
---
---